Prophetic Dance Troupe
:
A prophetic, mime, drama based dance team.
Ages vary in this team according to individual gifts and talents.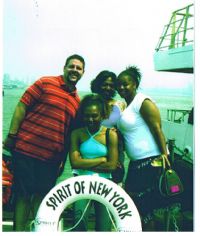 Singles Ministry
S.A.L.T.

(Single And Living The Truth) is a ministry designed to provide spiritual support and fellowship for unmarried, divorced and or widowed individuals. Participants of this ministry enjoy the many outings, camaraderie, fellowship services and regularly held group meetings.





Man 2 Man
is an association of men driven by one purpose, "

POSITIVE CHANGE

." Dedicated to helping men focus on life's challenges within themselves as well as their families to bring individuals to a place of self fulfillment and divine destiny.

Total Faith School of Ministry
Mission Statement
The mission of the Total Faith School of Ministry is to promote and provide training for Christian Ministers, Ministries, Leaders and Lay persons in both non-secular as well as secular subjects to sponsor and enhance excellence in ministry.
Vision
To become an accredited academy perpetuating excellence in all facets of Christian ministry and to be a renown nationally recognized entity for such.
Motto


"A School of Ministry promoting excellence in ministry"
The Total Faith School of Ministry was founded by Bishop Joseph Norfleet in 1995. It began as an extension of Faith Center Church as an arm to reach, teach and train the Leaders of the local assembly and has expanded to encompass the body of Christ at large. Even though the school occasionally sends its Trainers out to other locations, its main campus is located at 152 South Colony St. Meriden, CT.
School Staff
President and Founder - Bishop Joseph J. Norfleet
Dean of School - Elder Tanesha Hunter
Instructors:
Bishop Joseph Norfleet
Pastor Roberta Knotts
Lady Maddaline Norfleet
Elder Tanesha Hunter
Elder Michael Forbes
Other Instructors / Presenters are contracted to provide specialized training as needed.
Some of the courses offered are:
1.
Deacon In Training

8.

Leadership Styles
2.
Security Seminar

9.

Understanding Your Computer
3.
Counseling Seminar

10.

Grant Writing
4.
Teaching Teachers To Teach

11.

Church IRS Compliance
5.
Understanding Praise and Worship

12.

Church Administration
6.
Marriage and Family Enrichment 13

.

Four Faces of a Leader
7.

Understanding and Working with Difficult People 14. Missionaries in Training